ANECHOIC TEST FACILITIES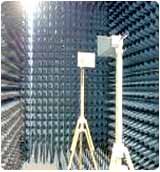 The
Anechoic test chamber
has been specially designed for testing the sound level from various output sources. The anechoic test facilities are used for testing a number of different aspects such as:
High intensity noise level fatigue which is performed on aircraft, space vehicles and other flying objects.
Transmission loss of partitions which is measuring the level of sound that permeates through the partition walls.
Insertion loss of silencers is the escape of noise through ducts.It is also a method of determining the efficiency of a silencer in noise abatement
Response characteristics of microphones. Microphones are expected to provide clarity of voice especially when used in recording studios by artists.
Random incidence absorption coefficients of materials and how effective each one is at sound absorption

These tests are performed to meet the sound control measurement requirements for the environment. We offer whole range of solutions and products for noise control at Envirotech Systems.


ROADS AND HIGHWAYS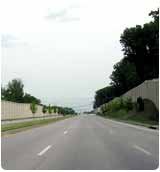 The noise from traffic can reverberate and produce quite a high frequency sound. The main cause of noise from roads and high ways are from the reverberation caused by the surrounding noise reflective surfaces from:
Trucks and heavy vehicles
Highway Noise
Pavement Noise
Toll Road Noise
Metaled and concrete roads generate more noise from tyres. The plastic speed breakers and the in road warning lights produce a lot of noise when vehicles go over it and it comes in contact with the tyres. This adds to the roads and highways noise.We have noise control barriers that can be used along the side of the roads for noise sensitive areas like:
Hospitals and medical centres
Schools and educational centres
Residential colonies
Office buildings
Theatres
Clubs
Hotels and guest houses
At Envirotech Systems we provide noise control solutions like absorptive noise barriers to reduce the noise that emanates from roads and highways.These barriers can be made from a number of different materials and are very effective for noise abatement.