Fire Doors
Acoustic Fire Doors
We are the leading manufactures of fire resistant doors that prevent the spreading of smoke or flames to other areas. These doors are very strong and robust. We manufacture these acoustic fire resistant doors according to the specification of the client based on our assessment of the location of installation. The doors are easy to install and have a good finish.
Material used:
The fire door frame is made of 16 gauge galvanised steel with a bending radius of 1.4mm and the fire door panels are made from two sheets of galvanised steel of 18 gauge each. Encapsulated between the two sheets is acoustic as well as thermal insulation material.
The doors are designed in a way that when closed there is no gap between the door panel and the frame. The frame of the door is as close fitting as possible. Usually the fire doors are self-closing and are fitted with a cold smoke seal which ensures that they are totally sealed not allowing the sound, air or smoke to pass through.Intumescent material is used as a door seal which expands easily in heat and fills any gap between the door and its frame ensuring that the door is totally sealed off.The melting point for the hinges is above 800°C.
Fire doors: Areas of use
Acoustic fire doors
have a high usage and most commercial areas should be using them. The general areas of use for fire doors are kitchens, machine and plant rooms, workshops, storerooms, laboratories and service ducts. Other areas where they should be used are as doors to staircases and corridor partition doors in large residential and commercial buildings. In case of a fire the fire door will prevent the flames and smoke from spreading through the exit doors, thus providing a good escape channel.
DOWNLOAD PROJECT
Acoustic Steel Doors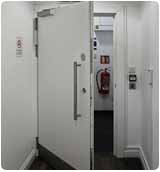 Acoustic steel doors
are very durable and strong and used for all kinds of locations.They are typically used for vaults and secure locations where sturdy doors are required for security concerns. Industrial plants and factories use acoustic steel doors to prevent noise emission as well as because of its durable features. These doors can be used as internal doors or as external doors.
The steel doors are manufactured with insulation properties and are resistant to weather, temperature and sound. They are powder coated to improve their aesthetic appeal. We manufacture steel doors in a number of colours and texture. It has a polyester powder coat finish.
The frame is made of 2 mm steel. The thickness of the door panel is 100 mm which includes an air gap for insulation and acoustic material. We also manufacture customised steel doors with acoustic treatmentas per the client's requirement.
Overview:
1. Key Features:
Finish:
Polyester powdercoat to full RAL range
Materials:
various stainless steel polish finishes
Thickness:
2mm thick frame with leaf sheets asymetrical and dependant on attenuation
2. Technical Data:
Panel thickness:
each leaf 100mm thick with an air-gap of at least 100mm
Standard colour:
to suit client - any RAL colour in polyester powdercoat or option of stainless steel
DOWNLOAD PROJECT
Acoustic Wooden Doors
The
acoustic wooden doors
are made to match the material used for the acoustic enclosure or for areas where wooden acoustic panels have been installed. These are special wooden doors with acoustical properties and an appealing aesthetic appearance. Wooden
acoustic doors
are also used for sound recording rooms, theatres, studios, machine rooms or any other room that needs doors with sound control properties. The acoustic wooden doors are multipurpose that have a low cost and high performance.
Wooden doors provide very effective acoustic absorption and good sound refraction as well. The panel of the wooden door is made like a sandwich with rubber strips in the recesses between the wood. The exterior of the door panel has a veneer coating.
We make customised acoustic wooden doors of any size or specification. Our doors have a sound transmission rating of up to 56dB(A). The doors come with a 3 pint latching system and heavy duty hinges. The acoustic wooden doors are fire resistant and sturdy; they are termite resistant and eco-friendly solution.
Properties:
Acoustic door sets are high performance constructions and are available in two standard acoustic ratings :
Doors are supplied complete with their own mounting frames
Low Cost – High Performance
STC Ratings Up To 56
Custom Manufactured Acoustic Door to Any Size Specification
Adjustable Soundproof Jambs & Seals
Ready To Stain/Paint To Match Your Decor
Best Performance Wood/Metal Finished Door Assembly Available
Automatic Sill
Heavy Duty Hinges (4)
3-Point Latching System
Door is available in standard veneers however other veneers are available on request.